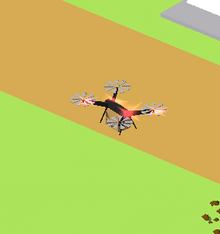 Drones appear in the sky randomly and can be tapped or dragged on (avoiding misclicking on a building), knocking them to the ground and giving you a cash/Golden Egg reward. At the beginning to midgame, they are a minor feature, but at the very late game, after all Monoliths are purchased, Elite Drones can be almost 99% of your income. For this reason, you may want to invest many of your Golden Eggs into Drone Research.
Drone Specimens
Regular Drones
Regular Drones are extremely common and quite slow. They appear approximately once every 5-30 seconds.
Cash Rewards: A small amount of bocks (0.01% to 1% of your Farm Value, higher rewards more likely with higher Drone Research )
Elite Drones
Elite Drones, added in V1.1, also called Fast Drones by nobody ever, are very fast and can turn mid-flight. They appear approximately once every 4 minutes and are very hard to catch. However, two Elite Drones can spawn right after each other.
Ad blocker interference detected!
Wikia is a free-to-use site that makes money from advertising. We have a modified experience for viewers using ad blockers

Wikia is not accessible if you've made further modifications. Remove the custom ad blocker rule(s) and the page will load as expected.